Contributed by Andrea Frittoli
This year cdCon was presented for the first time as a hybrid conference. I was there in person, and it was a great week for the CDEvents project!
Sponsor Showcase and Keynotes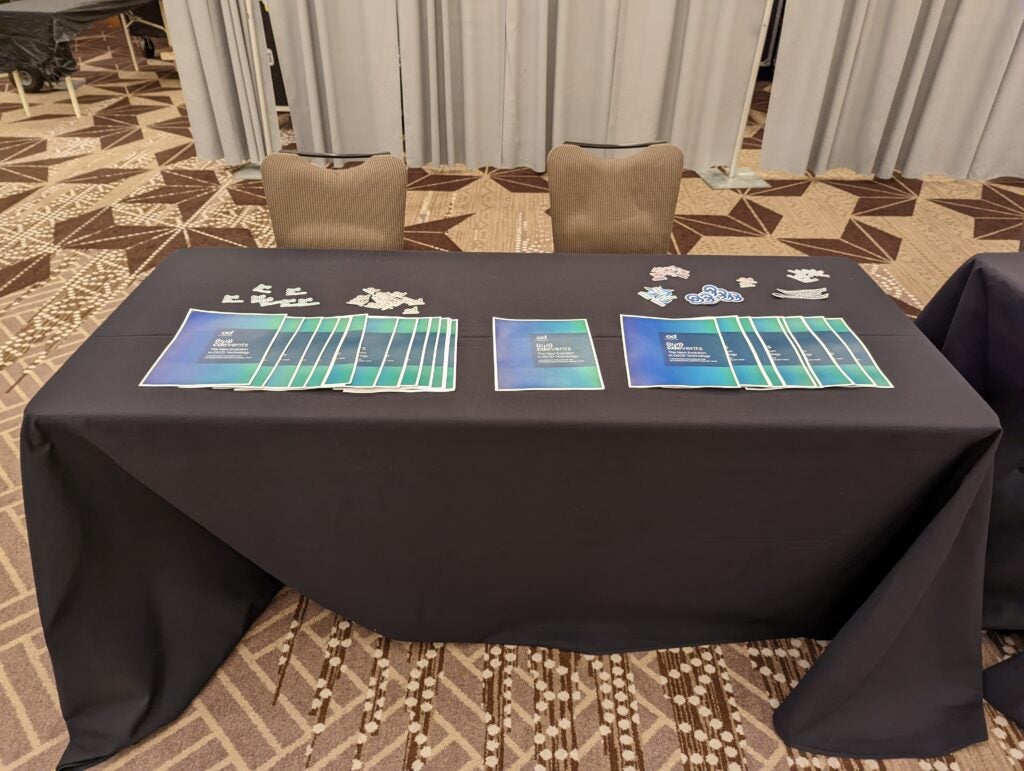 It started for me when I set up our project table in the sponsor showcase, with printed copies of the CDEvents Whitepaper that the project team prepared just in time for cdCon.
The Continuous Delivery Foundation's new general manager, Fatih Degirmenci, hosted the keynotes where CDEvents was featured as the latest project to join the CDF.
Later that day, the project Most Valuable Contributor (MVP) for CDEvents was announced. The winner was @salaboy! Thank you, Mauricio, for your great contribution to the project!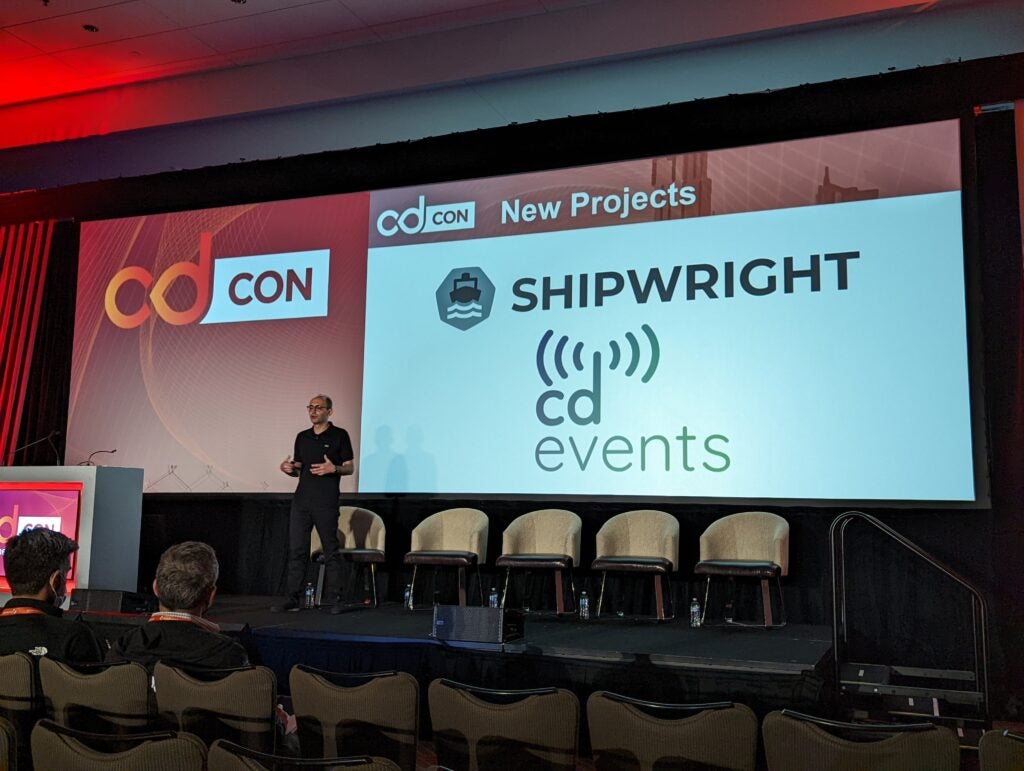 Breakout Sessions
Together with Erik Sternerson, we presented "Building DevOps Metrics for your Choice of CD Tools Through CDEvents", where we discussed producing the DORA DevOps metrics through CDEvents. Later on the same day Dave and Roger's excellent keynote about the Four Keys project sparked some really good discussions and opportunities for collaboration between the two projects, Four Keys and CDEvents.
The interoperability use case for CDEvents was presented in "Expanding Interoperability in the CD Ecosystem" by Mauricio @salaboy, with an impressive demo built by him and Ishan.
I had the pleasure of participating in the interoperability panel hosted by Melissa McKay, along with Justin Abrahms, Fatih, and Mauricio, where I had the opportunity to talk about CDEvents and the work we're doing towards the initial release of the specification, the SDKs and integration with tools like Tekton, Keptn, Jenkins, and more.
CDEvents Community Summit
On Friday morning we hosted the first CDEvents Community Summit – thank you to the CDF for the opportunity and to Emil Bäckmark and Erik Sternerson for co-hosting the event! We had some great conversations during the event, reviewed the project roadmap and planned work for the months following the conference. We had attendees in the room as well as remote, with a setup that allowed us to present and work together regardless of the location.
The recording of the event is online, along with notes from the discussion.
Press release and Interviews
Wrap-up
This year's cdCon was very positive for CDEvents, with plenty of scheduled content as well as great conversations and feedback both in the sessions as well as in the hallway track of the conference. I left Austin with the feeling that a lot more people knew about CDEvents and shared interest in the project mission of a vendor-neutral, event-based language and tools for interoperability in the continuous delivery space.
If you want to learn more about CDEvents visit https://cdevents.dev/ or watch the CDEventsCon talks from May 2022.