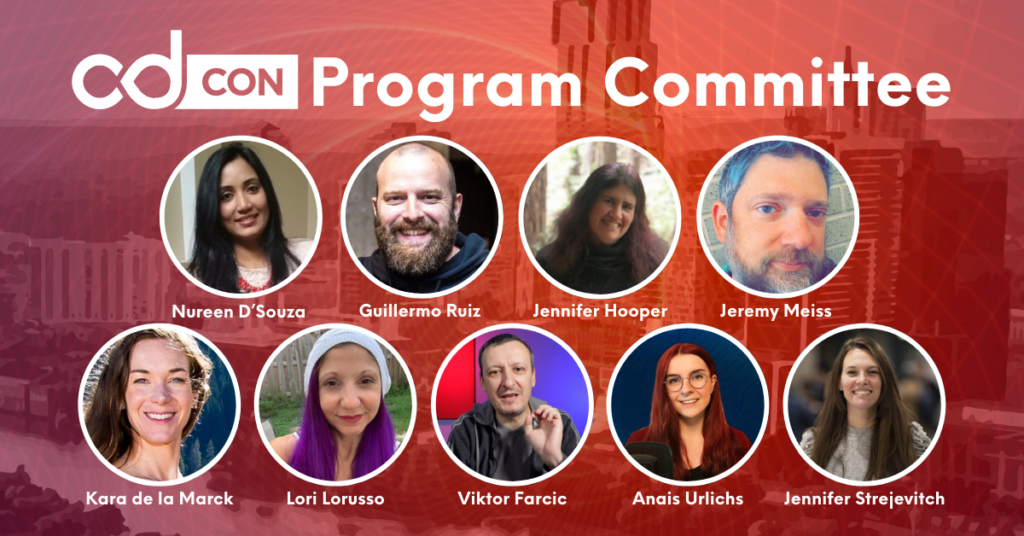 We're happy to announce the cdCon 2022 Program Committee! Thank you to the following individuals for volunteering their time to bring you the best cdCon program possible.
Program Committee Responsibilities
The committee will be mainly responsible for the following:
Update and help structure cdCon's program tracks
Update call for papers description
Review, score and provide feedback for incoming talk sessions
Select cdCon 2022 early-bird sessions
Select cdCon 2022 final program
Promote call for papers and event
Additionally, the program committee will assist with the following:
Recruit keynote speakers
Recruit session speakers
Define fundraising initiatives at cdCon 2022
Important Dates
Call for Papers Opens: January 10
Early-Bird Submission Deadline: January 28 at 11:59 PM PST
Early-Birds Announced: February 14 
Call for Papers Closes: February 18 at 11:59 PM PST
Speakers Notified: Week of March 21
Schedule Announced: Week of March 28
cdCon: June 7-8, 2022
Save the Date
Next year, cdCon will happen in early June.
cdCon 2022
June 7 – 8, 2022
Austin, Texas + Virtual
cdCon Website
Mark your calendars and follow us on Twitter @CDeliveryFdn or #cdCon for updates.