The CD Foundation celebrated its second birthday this March! We've come a long way in a short time. Here's what we achieved last year thanks to our wonderful community: Annual Report.
In 2020, the Governing Board defined the mission of the Foundation as "to improve the world's ability to deliver software with security and speed." With this mission in mind, the board set the Foundation's goals for 2021. (View Governing Board meeting minutes for February 11, 2021.)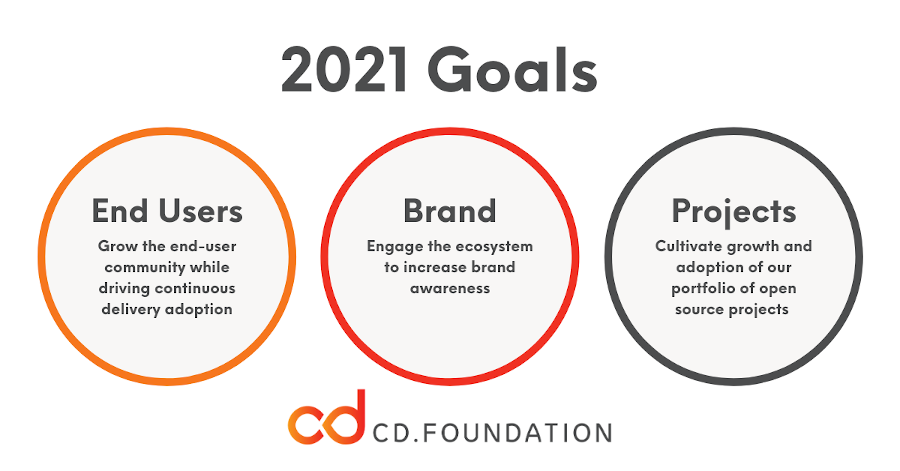 1. End Users
Grow the end-user community while driving continuous delivery adoption
To grow the end-user community we created the End User Council. Its goal is to provide end-user organizations with a space to have context-rich discussions on how various organizations pursue their modernization efforts in the most effective way. Here's the Council's plan for 2021.
This month, we're also launching the End User Leadership Forum. The first event will focus on Measuring DevOps Success and is scheduled for March 31. Register to attend.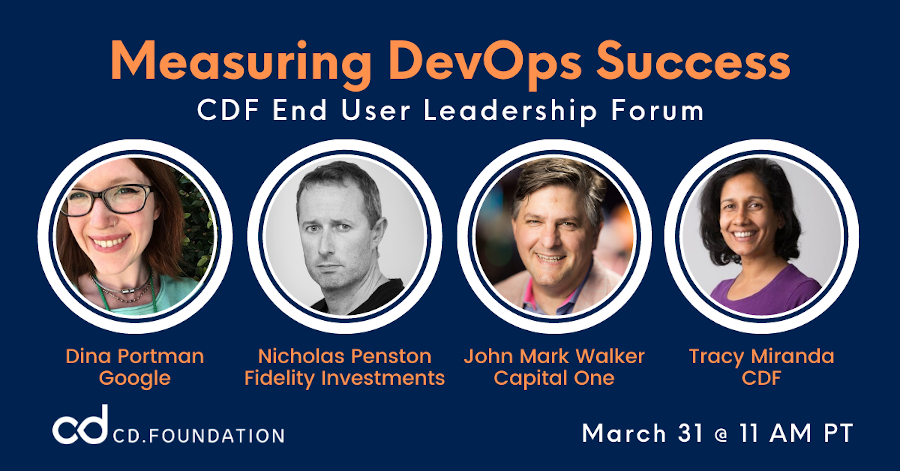 2. Brand
Engage the ecosystem to increase brand awareness
To engage the ecosystem as well as foster collaboration across our projects and working groups, we're hosting the second edition of cdCon 2021 (June 23-24, 2021). This year, we are aiming to more than double participation with over 3000 registrations while maintaining the excellent attendee rating we achieved last year. We're also co-locating cdCon with the Spinnaker Summit (June 22-24). As ever, a focus on diversity and inclusion is also top of mind, and we won't be resting on our laurels.
We're also excited to announce a GitOps Summit (June 22, 2021) as a day-zero event with cdCon. This is a joint effort between the Cloud Native Computing Foundation (CNCF) and CDF, as part of our goals to foster more collaborations across the industry. We also plan to collaborate more with Fintech Open Source Foundation (FINOS) in 2021. Watch this space!
3. Projects
Cultivate growth and adoption of our portfolio of open source projects
The Foundation currently has six projects: Jenkins, Jenkins X, Ortelius, Screwdriver, Spinnaker, and Tekton. Currently, the only graduated project is Jenkins. We aim to help projects meet their goals and achieve graduated status to signal maturity to the industry. To cultivate the growth and adoption of our projects, we host webcasts, podcasts and blog posts, as well as provide services for infrastructure, artwork, security & more!
In 2021, the Governing Board would like to see the onboarding of four new open source projects, making the CDF their home. We are actively having discussions around which parts of the CD Landscape we would love to have projects from, and can share that Testing and Security are areas that come up often!
More to come
All this is happening and it's only the end of the first quarter! There's so much more to come.