Contibuted by Vipul Gutpa | originally posted on his blog mixster.dev
You know the feeling you get when you haven't eaten your favourite dish in some time. Maybe the taste buds have grown tired of it, the dish is seasonal and unavailable, or you want to explore something new. For me, this was attending meetups or giving talks at conferences.
With Covid hitting India in waves and meetups turning virtual, my motivation to present or attend gatherings took a nose dive. I lost a good chunk of my social battery with how events unfolded in my personal life too. The battery that I excessively burned out on organizing events for meetup groups and volunteering at conferences no longer existed.
So finally, when my proposal got accepted, I was excited to push myself out of my comfort zone and make the most of this opportunity. This blog serves as a log of how I revived the 2020 Vipul's forgotten fire, the incredible conference I had and how you too can contribute to it!
Applying to the conference
Linux Foundation runs numerous events dedicated to particular topics yearly. You can check out the current year's event list to know more! My work life has primarily been dedicated to open-source. Hence Open Source Summit events are a perfect match for me in terms of contributing, sharing knowledge and building new opportunities.
I applied at a co-located event on the conference days called CdCon + gitOpsCon. You can find the talk abstract and details of my talk in the previous post I made before catching my flight to the conference. The talk acceptance was a validation to me personally that folks were interested in the work I have been doing for the past three years, and it could be an excellent talk to present.
CDCon + GitOpsCon 2023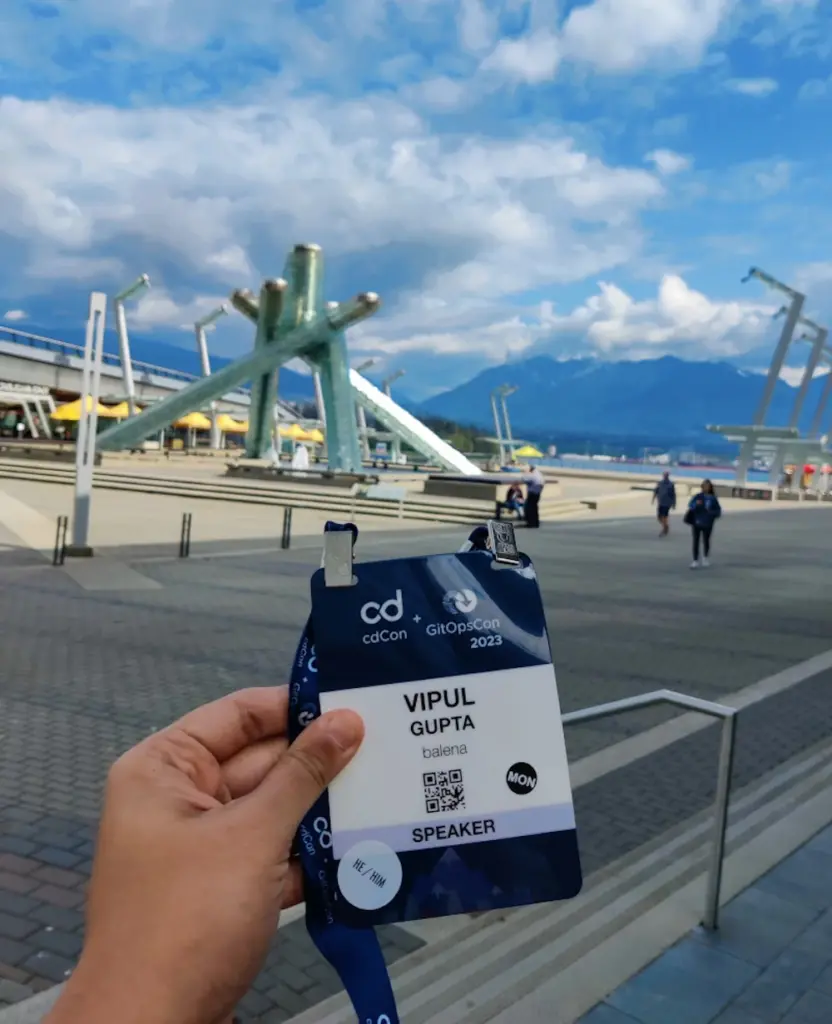 This event was aimed at new audiences or already using GitOps and CD. GitOps is a practice that enables organizations to take a declarative approach to cloud-native infrastructure and application delivery using CD best practices. The conference brings together communities, vendors, and end users to meet, discuss, and collaborate on GitOps and CD.
The conference was two days long, with keynotes, talks, and sponsor demos. I got to meet a ton of people working on several continuous workflows and use cases. It was great to meet so many new people. The battery ran out quickly on the first day, so I didn't push myself much. A long journey from my home in New Delhi, India, to the other side of the world in Vancouver definitely didn't help.
It was time for my talk!
Among many exciting sessions, my talk was scheduled on the first day before lunch. I prefer that since it relieves the mental pressure on me early. I worked quite a lot on my slides, condensing the journey of over three years of building the product I presented to the attendees. I always like to present a story to my audience, and this time it was a journey from pull request to production, explaining along the way how things worked. I even did a dry run with my colleagues and used their initial feedback to further improve and simplify my ideas. A last-minute change to the slides by adding applications of the hardware in the loop pipeline I was presenting was incredibly helpful for my talk. Here's me rehearsing frantically one last time against a perfect backdrop of the Vancouver Islands minutes before my talk.
At first, I thought I would be a bit rusty since it had been a minute since I was last on stage. But the skills from presenting and organizing meetups over the years turned on quickly enough for me to get a grip and get a fantastic presentation going for the next 25 minutes. Overall, I am satisfied with what I was able to deliver. I could leave 5 minutes for questions as planned. The content flowed well, with no technical glitches except the microphone falling off once, and hopefully, from the feedback I received, it did feel attendees were able to understand the topic well.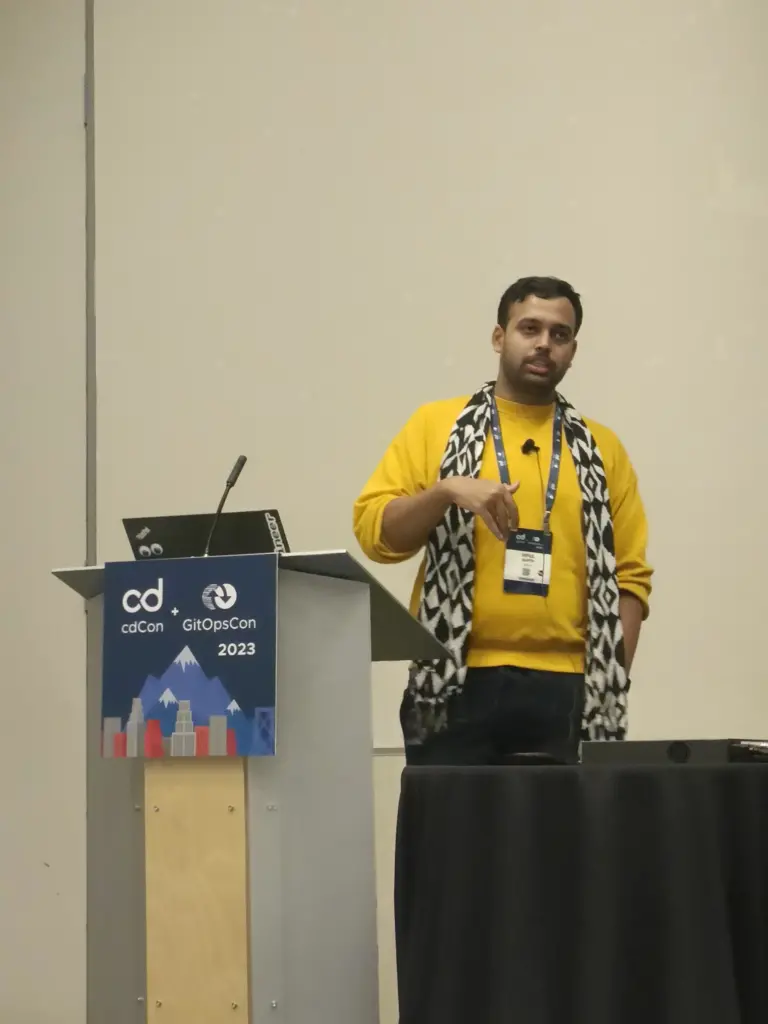 I also received follow-up questions from the audience that turned into hallway discussions which were a positive signal. Personally, I felt tweaking the topic title could have boosted audience participation in the talk. But I will take what I got and work on that for the next one. All thanks to the Linux Foundation for supporting me financially to deliver this talk. Thankfully there is an excellent recording of my session that you can watch below:
Adding faces to usernames!
The conference had a lot of new faces. Since I barely knew anyone, it lead to a ton of ice-breaking, networking opportunities and being able to add faces to usernames. It was incredible to meet, understand and discuss different technologies, workflows and projects people have been working on full-time. I met folks from ARM, Digital Ocean, ChangeLog, GitHub, Sourcegraph, Gitlab and even more. The social battery kept up for days as I got with the flow of things; my legs were hurting, though, from all the session hopping I was doing.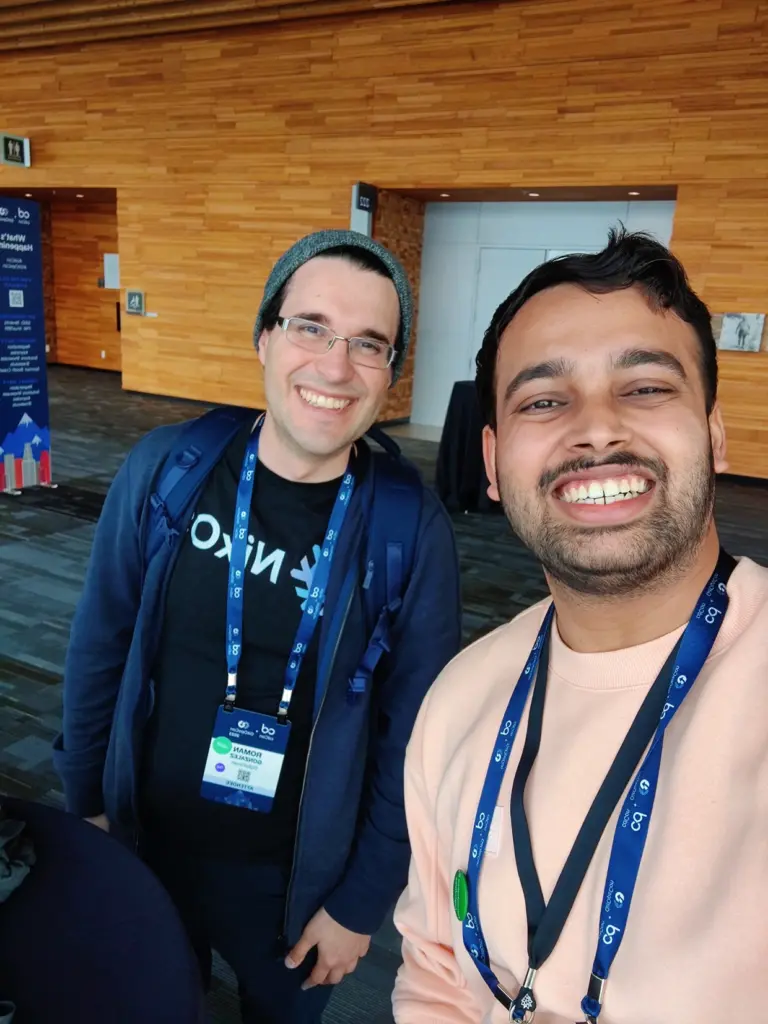 Open Source Summit 2023
I have always dreamed of attending this conference. Open Source Summit is a vast, well-managed, agenda-packed conference with so many people attending that it's astounding, to say the least. The conference has over 10 sessions/things running parallel to each other, and if it wasn't for running for something, you can be sure your would be missing something.
While I wanted to run, seasoned conference attendees helped me with a piece of advice to manage this and asked me to focus on what matters. "If something is getting left behind, it's at least getting recorded. Scan the entire schedule to pick topics or speakers that will help you achieve your purpose at the conference and focus on that." said the favourite person I had a chance to meet at the conference, Nigel Brown.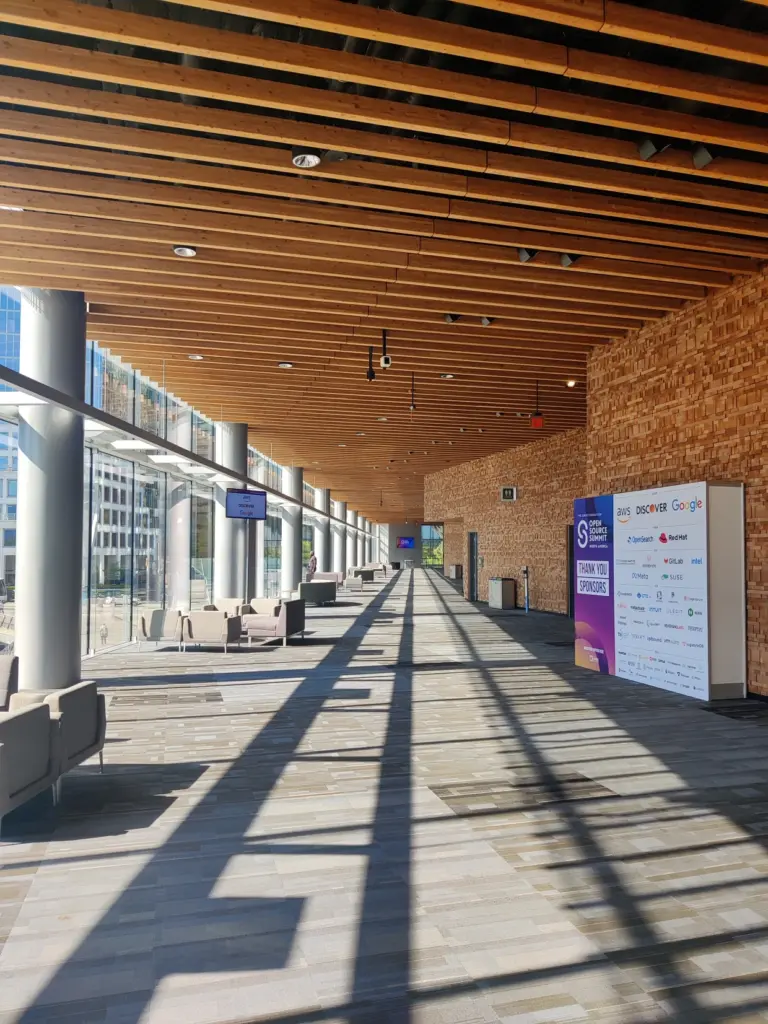 Meet the expert: easily one of my favourite sessions
If you get to attend Open Source Summit, meet the expert sessions are ones that I highly recommend, without a doubt. TL;DR: An industry expert frees up one hour of their time to have an informal roundtable discussion with the attendees on anything they want to talk about in the field. You got Linux Kernel maintainers, policymakers, team leads, OSPO leads, and numerous more people open to sharing their knowledge. The discussions of an hour slipped by in minutes, the conversations that took me days to digest. Quite literally my favourite time of the day.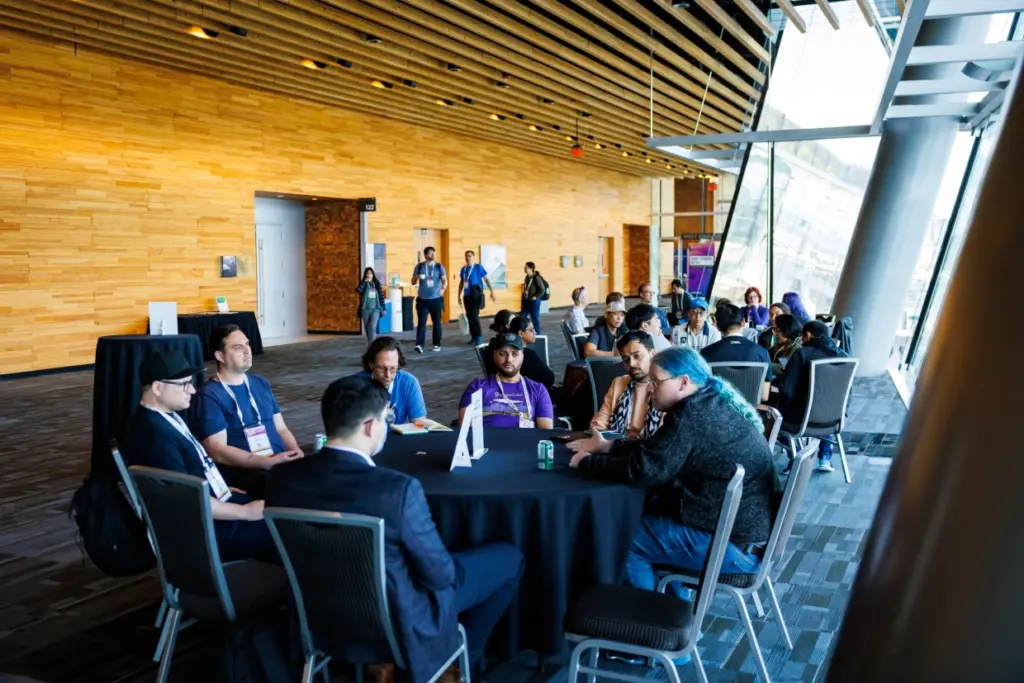 Overall…
It was tiring but in a good way. Kudos to developers, sponsors, organizers, fellow speakers, and everyone involved who created this event. It was a mega-event, and I still can't believe how people find the energy to visit four of these events worldwide and then KubeCon and other conferences.
I learned so much from the sessions and through my interactions. Just absorbing knowledge and gaining insights from the best people in the field.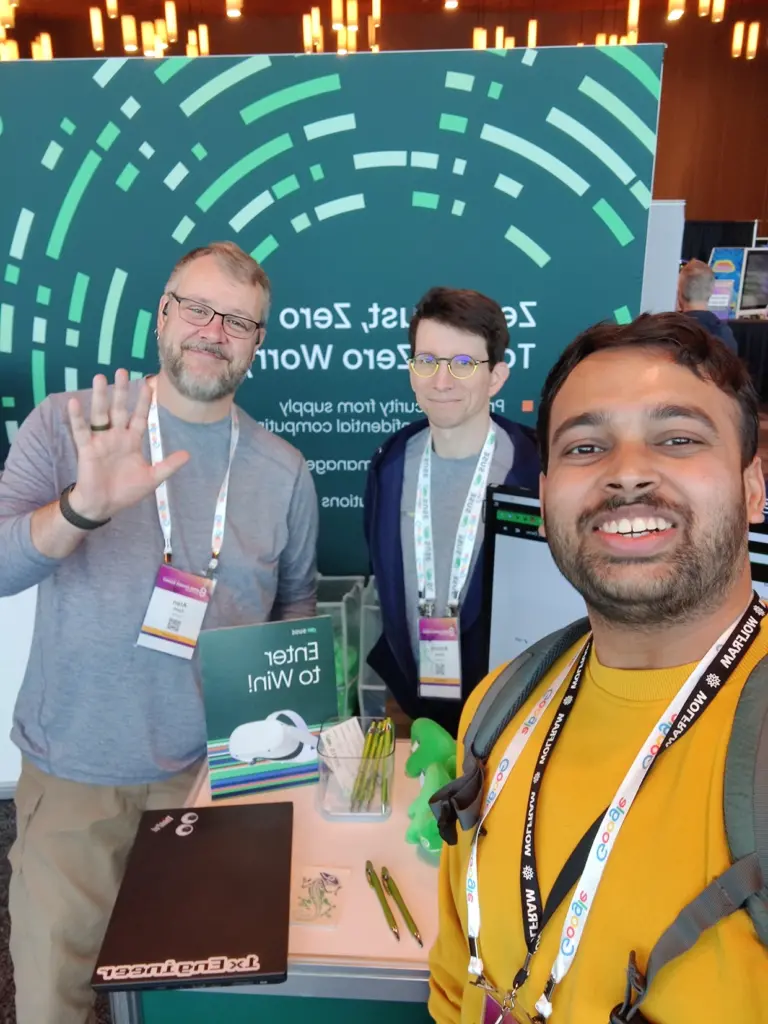 And, also fun times
The people who worked hard throughout the conference played hard throughout the night. Everyone was amicable as I attended informal events self-organized by attendees, like DevRel dinners, karaoke nights, sigboba, concerts, parties, and so much more. The real memories were truly made here. I really enjoyed my time in Vancouver, even though most of it was around the conference halls. I appreciate that I got to make the most of it. I had one too many Frozen Margaritas at the keg with Lian and Kunal, followed by having ramen together.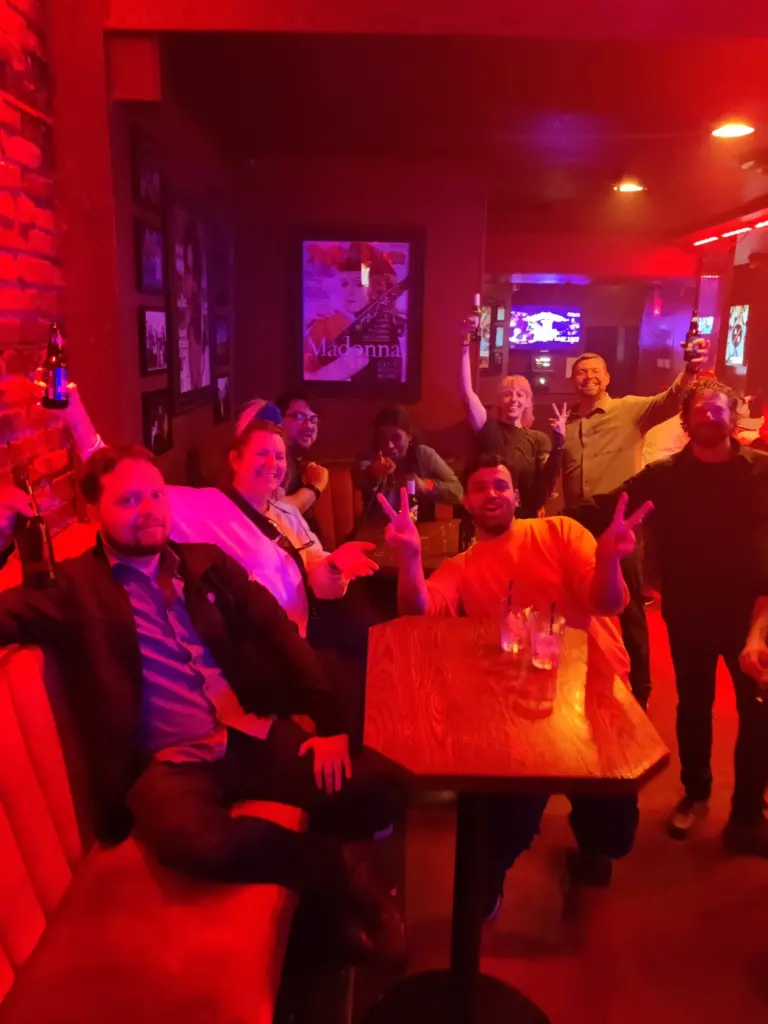 And that was it!
Thanks again to Linux Foundation and Balena for allowing me to attend the event without considering the logistics and battling the most expensive city in Canada. It was an incredible time for me to speak about the open-source project we are building for the community at work and see what others have been up to. Learnings, gaining insights and finding new opportunities have been the headlines for attending this conference. I highly recommend you participate in future Linux Foundation events.
Till then, thanks for reading and being in the mix.