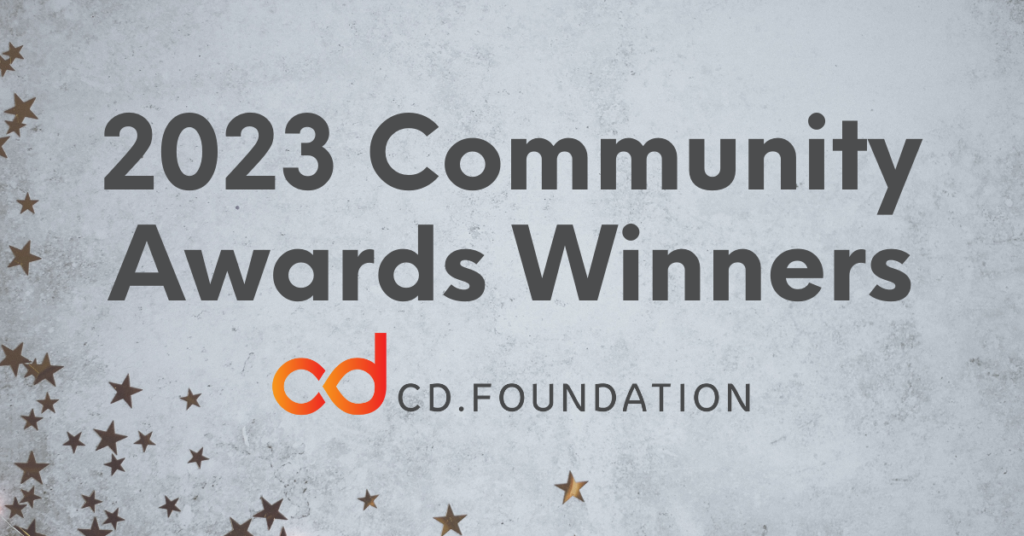 At cdCon this week in Vancouver, May 8 – 9, we announced the third set of Continuous Delivery Foundation Community Award winners.
Thank you to everyone who nominated and voted and to our projects, who ran their awards. And finally, thank you to our award officers for ensuring the sanctity of the CDF awards:
Tracy Ragan
Ullrich Hafner
This year, 18 awards were given out. Congratulations to this year's winners! Your hard work and leadership make this community and the progress of Continuous Delivery possible.
And the 2023 CDF Community Award winners are…
CDF Project Most Valuable Contributor Awards 
🏆 CDEvents: Emil Bäckmark
Emil has contributed greatly and consistently to the CDEvents projects, as a member of the project governance, project representative on the TOC, and sharing his insight and experience in all technical discussions about the specification. Emil has also actively contributed to the project through advocacy at conferences.
🏆 Jenkins X: Mårten Svantesson
Mårten has been a very active contributor to Jenkins X in the last few years and has made significant contributions not limited to code improvements, adding new features, and reviewing PRs. He also is the current TOC chairperson.
🏆 Ortelius: Sacha Wharton
Sacha has single-handedly developed "Ortelius in the Box" which was on the wishlist for a long time. His contribution towards setting up the Ortelius Dev environment is amazing. This will attract other potential developers to spend time in development rather than in setting up a local environment.
🏆 Pyrsia: Steve Taylor
Steve is a primary contributor to Pyrsia and has been with the project from the beginning and is continuing to drive it forward.
🏆 Screwdriver: Yuta Kaneda
For his Ember upgrade work on the breaking change that updated Screwdriver to LTS version (4.4) as the version of Ember framework used was out of date. It was a great lift to keep the Screwdriver UI framework the latest version and the security concerns low.
🏆 Shipwright: Otávio Fernandes
In the past year, Otávio established two new projects inside Shipwright: the first one is simply called Setup and is a GitHub action that installs Tekton, Shipwright, and a container registry into a KinD cluster. That's a great simplification for the test setups in our projects. The second one is the Triggers project which integrates container image builds running in Shipwright into larger CI flows. Today, it can already run a build as part of a Tekton pipeline. More scenarios are already designed by him such as the trigger of a build on a Git push event on GitHub.
🏆 Spinnaker: David Byron
David has shown significant commitment to Spinnaker last year in both leadership and as an individual contributor by topping the chart on the number of commits in 2023. He played a critical role in transitioning and simplifying the Spinnaker build and release process. He contributed to significant performance improvements in Spinnaker operations. He is also available as a reviewer when needed to help the community to move forward.
Graduated Project Awards
Jenkins
🏆 Most Valuable Advocate: Mark Waite
For the tremendous work he has done on all the Jenkins media (Gitter, discourse, etc.), the numerous PR reviews, the YouTube videos with Darin Pope, the SIG he runs or attends to… Well, too much to list.
🏆 Security MVP: Daniel Beck
For the Jenkins code scanning tooling project he started and went to GA recently (announcement), his never-ending improvements on the security documentation for jenkins.io, 50+ vulnerabilities reported by Daniel that were published during last year. And his continuous effort to ensure the update center is stable and secure.
🏆 Most Valuable Contributor: Jan Faracik
In honor of the work that he's done to refine and improve the look and feel of Jenkins. He's successfully implemented major changes to the Jenkins user interface, removed outdated components, and advanced the state of the Jenkins user experience.
Tekton
🏆 Most Valuable Advocate: Andrea Frittoli
Andrea has been working tirelessly to advocate for TektonCD within external communities.
🏆 Security MVP: Billy Lynch
Billy has driven a lot of features around chains, the "security" component of tektoncd, and is the most active maintainer of the project. He has also been on top of security topics for all projects and the community.
🏆 Most Valuable Contributor: Jerop Kipruto
Jerop has been contributing to Tekton very consistently, bringing several exciting new features into Tekton, leading the discussion on topics like large results and artifacts, and always going the extra step to capture the community ideas and building consensus. Jerop has contributed to Tekton as a member of the project governing board as well as an advocate, through videos and conference talks.
CDF Awards
🏆 Top Ambassador: Saim Safdar
Saim has been a great addition to the Ambassador family this year and always shows enthusiasm every day. He has contributed lots of his time to the outreach of projects whether it is tweeting, podcasts, blogs, or speaking. He is one of the most active ambassadors and participates in the kanban board. Managing multiple channels and even in his busy schedule never steps back to mentor folks in need. For enabling the community with his podcasts and re-sharing tutorials, hence making the daily lives easier for all SREs, Developer advocates & engineers.
🏆 Continuous Enthusiast: Lori Lorusso
Lori has made a huge impact on the CD Foundation this year with her efforts and passions in many aspects of the foundation from the Outreach Committee, Governing Board, Technical Oversight Committee, cdCon Committee, and many other places. She actually is everywhere!
🏆 Top Doc(umenter): Terry Cox
Terry won this award for his work and guidance around the CDEvents project documentation, Best Practices, other SIGs, and CD Foundation projects.
🏆 Top Contributor: Steve Taylor
Steve has worked diligently for the last 3 years on various CDF projects and working groups. He is the top contributor of Ortelius, a primary contributor to Pyrsia, has worked on CDEvents, and currently serves on the CDF TOC Board. Steve's ability to understand the core DevOps challenges and know what is needed to address them is unmatched by his peers. He is a strong believer in open-source, has the heart and patience to work with new contributors, and believes in building a diverse contributor base across the globe.
🏆 Top End User: eBay
eBay is one of the end-user organizations supporting the CD Foundation's vision and mission, contributing to various critical topics such as supply chain security and co-chairing the Special Interest Group Interoperability. Additionally, eBay representatives serve on the CDF Governing Board as well as the CDF Technical Oversight Committee, making valuable contributions to corresponding groups.
The award ceremony at cdCon was filmed and we will link the video here as soon as it's available.