Contributed by Garima Bajpai, CDF Ambassador Chair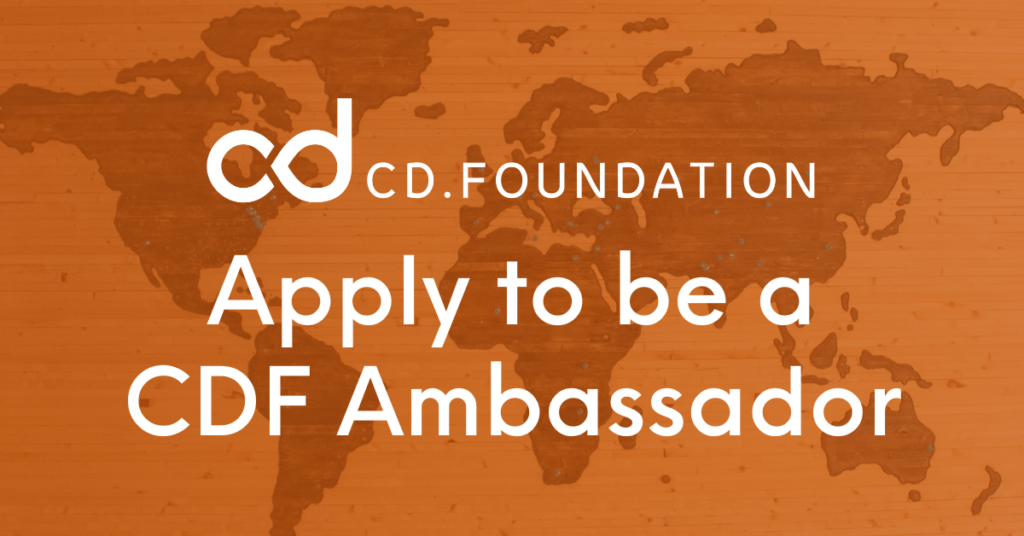 We are excited to announce that application for the Continuous Delivery Foundation (CDF) Ambassador Program for 2023 is now open. This program has been instrumental in fostering collaboration, progressive conversations, and inviting community contributions to various initiatives for Continuous Delivery.
What is the Ambassador Program?
For some context, the CDF Ambassador Program is an initiative to enable Continuous Delivery Leadership and grow the CDF through engagement, outreach, and adoption of open source CD software practices, projects, and tools.
In 2022, our first cohort after re-architecting the program got an overwhelming response with a diverse set of folks (33% from Asia, 26% from Europe, and 25% from North America), from which 45 were selected.
The call for ambassadors attracted top talent from various demographic locations, industry segments, and diverse backgrounds.
2023 Cohort
This year, we are excited to add new ambassadors to our cohort to ensure that it's made up of active and fully engaged, contributing members of the CDF community, expanding our geographical reach, and diversified perspective from various projects, SIGs, and cross-contributors from other communities.
The ambassadors will help steer the tactical roadmap for the next four quarters, and work closely with the co-ambassadors and various other strategic CDF engagements.
The Ambassador Program is open to applicants who:
Engage with the end user ecosystem and drive continuous delivery adoption.
Cultivate growth and adoption of CD Foundation open source projects portfolio.
Contribute actively to a community with experience in mentoring, creating content, and speaking at events on Continuous Delivery.
Willing to contribute to the CD Foundation projects, and other related initiatives.
*Keeping in view the interest and enthusiasm of the 2022 ambassadors cohort, we have decided to extend their tenure to another year through re-application. Please note that past contributions will be taken into account while reviewing reapplications and extending tenures for the current ambassadors.
Important Dates
February 8: Applications Open
February 28: Applications Close
Beginning of March: Accept/Decline Emails Sent
Mid-March: 2023 Cohort Kickoff
Thank you 2022 Cohort
Lastly, we would like to thank all the active ambassadors for their contribution during the past year. As the Chair of the Ambassador Program, I am grateful for the engagement by the wide cross-section of stakeholders, including new and upcoming projects, and for making progress toward strengthening our outreach. We're looking forward to having new and returning ambassadors, whose term will begin in March 2023.