The fourth annual cdCon will take place with GitOpsCon, hosted by the CNCF, on May 8 – 9, 2023, in Vancouver, Canada in co-location with Open Source Summit NA (May 10-12, 2023).
cdCon + GitOpsCon is designed to foster collaboration, discussion, and knowledge sharing by bringing two communities together. It's the best place for projects, end users, and vendors to collaborate in shaping the future of GitOps and Continuous Delivery (CD).
This event is both for new and current GitOps and CD users. Learn from experienced practitioners about pitfalls to avoid, hurdles to jump, and how to adopt the most popular open source GitOps and CD technologies such as Argo, Flux, Tekton, Jenkins, Spinnaker, and CDEvents in your organization.
Fatih Degirmenci, CD Foundation Executive Director, says:
"For the first time since its inception, the CD Foundation's flagship event, cdCon, gathered in-person and virtually for the third-annual cdCon in Austin, Texas, in June 2022. We were thrilled to see so many of our community members face-to-face and proud to be able to offer the event's amazing content to a virtual audience.
"In 2023, the CDF community wanted to bring the projects and end users working with CD and GitOps from different communities together. That's why we are excited to be co-organizing cdCon + GitOpsCon 2023 with the CNCF. What's even more interesting for the attendees is that the event will be co-located with the Open Source Summit later that week, giving them the opportunity to register for it and get more out of their week in Vancouver with events like SupplyChainSecurityCon.
"We are so happy to collaborate with such expansive communities like the CNCF projects and the Open Source Summit events. The potential for collaboration is endless!"
Spinnaker Summit
If you want to propose a talk for Spinnaker Summit, do it in this call for papers. Spinnaker Summit will have its own track within cdCon.
Spinnaker Summit will have its own Program Committee and website. This will be announced soon.
Submission Deadlines ⚠️
Early-Bird Submission Deadline: Tuesday, January 17, 2023, at 11:59 PM PST
Call for Papers Deadline: Friday, February 10, 2023, at 11:59 PM PST
cdCon Topics
Here are the suggested topics for talk submission:
101 Sessions
Leadership
Community & Culture
Cloud Native CD
Progressive Delivery
Best Practices in Continuous Delivery
MLOps
Observability & Analytics
Performance
Security & Supply Chain Security
Developer Experience & Productivity
Platform Engineering
Policy & Governance
Automation & Testing
Interoperability in CD
You can also propose a talk revolving around a project:
CDEvents
Jenkins
Jenkins X
Ortelius
Pyrsia
Shipwright
Spinnaker
Screwdriver
Tekton
Other – e.g. Keptn, Flagger, Argo, Flux
We look forward to receiving your proposal!
cdCon Program Committee
We received many nominations to join the cdCon 2023 Program Committee and were pleasantly overwhelmed with our community's response to create the best cdCon to date!
The program committee for cdCon 2023 will be responsible for the following:
Promote the CFP
Review, score and provide feedback for sessions
Select cdCon 2023 program
Promote cdCon 2023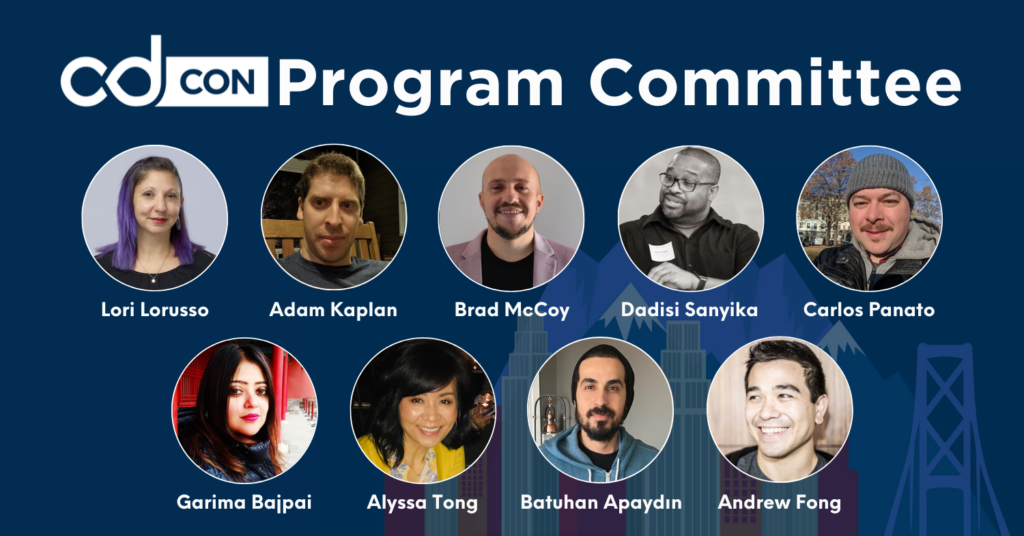 Please help us give the following individuals a big welcome and thank you! And a special thank you to Lori Lorusso, this year's program chair!
Lori Lorusso (JFrog) – Program Chair
Adam Kaplan (Red Hat)
Alyssa Tong (CloudBees)
Andrew Fong (Prodvana)
Batuhan Apaydın (Trendyol)
Brad McCoy (Basiq)
Carlos Panato (Chainguard)
Dadisi Sanyika (Apple)
Garima Bajpai (Ericsson)
And, of course, thank you to everyone else who volunteered to serve on the cdCon 2023 Program Committee.
Important Dates
Early-Bird Submission Deadline: Tuesday, January 17 at 11:59 PM PST
Early Bird Announcement: Tuesday, January 24
CFP Closes: Friday, February 10 at 11:59 PM PST
CFP Notifications: Friday, March 3
Schedule Announcement: Week of March 6
Slide Deck Due Date: Wednesday, May 3
Event Dates: May 8 – 9, 2023
Stay up to date on cdCon
📅 Mark your calendars: May 8 – 9, 2023
🐦 Follow us on Twitter @CDeliveryFdn or #cdCon