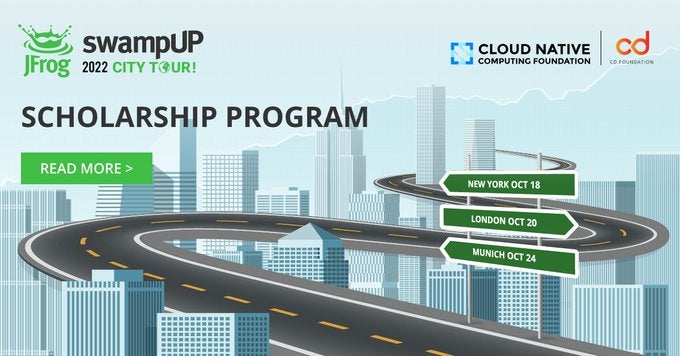 The swampUP City Tour 2022 is an in-person event that will give you actionable tips, patterns, and use cases to drive DevOps and DevSecOps to the next level. Get ahead and upskilled on modern CI/CD, package management, software distribution, device update management, and security best practices. Gain unique insights from our leading experts and your industry peers with a full day of hands-on training, keynotes, testimonials from top industry brands, and breakout sessions from world-renowned speakers.
Scholarship
The Continuous Delivery Foundation (CDF) and the Cloud Native Computing Foundation (CNCF) are proud to sponsor JFrog's Diversity Scholarship for the swampUP 2022 City Tour. As part of our joint commitment to diversity and inclusion in the open source DevOps and SecOps ecosystem, JFrog is offering up to ten (10) "scholarships" for each of the three (3) swampUP City Tour events. The scholarship includes a conference pass and a full day of DevOps and DevSecOps thought leadership and training.
⚠️ Deadline to apply is September 26!