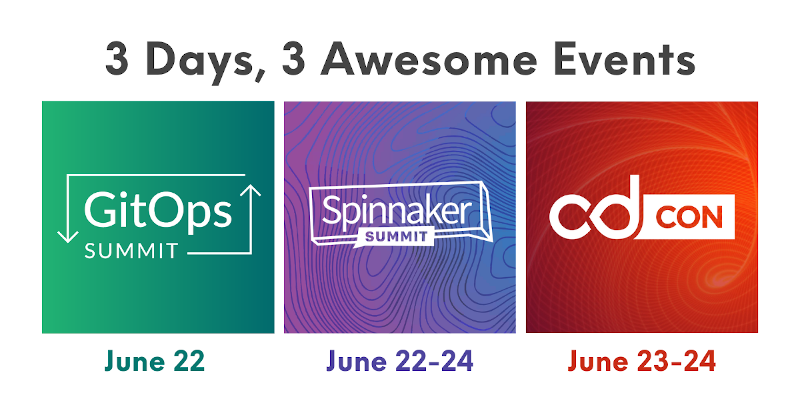 I am thrilled that we're hosting cdCon again this summer and that it'll be co-located with the GitOps and the Spinnaker Summits. Our community is not only united but growing! We will most the most out of these virtual events and hope that we can meet in person in 2022.
Conference Programs
The programs are ready and they're great! Check them out:
How the speakers were selected
To help us shape the agenda for this year's event, back in December we put out an open call for cdCon planning participants and program committee to our Ambassadors and the wider community. Our volunteers rated talks on a scale of 1-5 and we met regularly to discuss what we were looking for in talks and where necessary did specific outreach to underrepresented speakers, end user organizations and on specific topics we wanted to encourage to be in the program (e.g. burnout was a topic we felt important to discuss this year). We had a lot of talks submitted to the GitOps track so this led to spinning out of the GitOps Summit and we were thrilled to partner on this with the CNCF. Many thanks to our program committee:
Program Committee
Thank you to the program committee for reviewing and deliberating nearly two hundred talks. It couldn't have been easy, but you selected a great program.
2021 Program Committee:
Alyssa Tong
Baruch Sadogursky
Carlos Panato
Chandani Kumari
Emily Ruf 
Fatih Degirmenci 
Garima Bajpai
Jason Odoom 
Jennifer Crowley
Jennifer Tucker
John Mark Walker
Rachel Braun
Rosalind Benoit
Saim Safdar
Siddharth Pareek
Stephen Chin
Tiffany Jacha
Tracy Ragan
Viktor Farcic
A few stats
190 talks were submitted; we accepted 100 in total.
We have 124 speakers
1,700 have registered (almost 500 this week only) and the number keeps growing!
Register
The events will be virtual and registration is free, although donations to Black Girls Code, She Code Africa, and Women Who Code organizations are accepted and encouraged.
You can register for one or all three events in the same form.