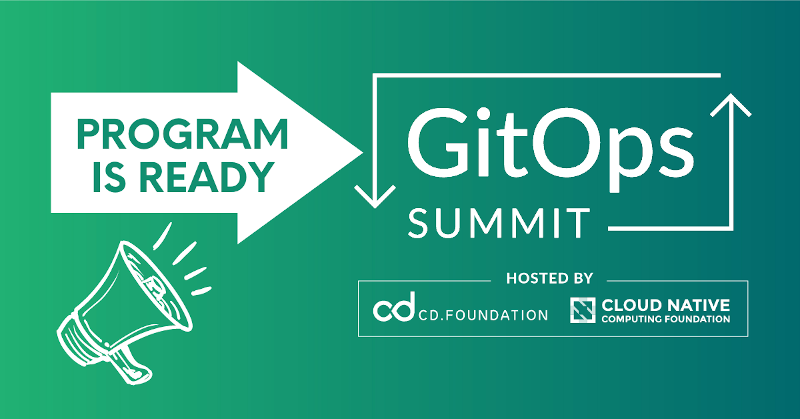 GitOps Summit, June 22, will be co-hosted by the CDF and the CNCF and co-located cdCon. Registration is free (although donations are appreciated). Register here
We're excited to announce that the program committee has selected the talks for the event! It'll be a great program. Thank you for submitting talks and congratulation to the following speakers:
| Talks | Speakers |
| --- | --- |
| Best Practices for Secret Management with GitOps | Kara de la Marck |
| Combining Progressive Delivery With GitOps And Continuous Delivery | Viktor Farcic |
| GitOps: Yea or Nay? | Ricardo Castro |
| The Power of GitOps to Infrastructure Provisioning and the Edge | Katie Gamanji |
| Keynote Panel: "Why GitOps?" | Dan Lorenc, Tracy Ragan, Cornelia Davis, & Dan Garfield |
| GitOps for the people: Enterprise Release Management with GitOps | Lian Li |
| Managing Storage via GitOps | Christian Hernandez |
| The SAME Project: A GitOps Approach to Reproducible Machine Learning with Flux and Kubeflow | David Aronchick |
| Progressive Delivery at Intuit, the Next Chapter in a GitOps Journey | Henrik Blixt & Jesse Suen |
| Self Healing GitOps: Continuous, Secure GitOps using Flux, Helm, and OPA | Om Moolchandani |
| GitOps and Policy-Driven Ops | Rosalind Benoit |
The full schedule and talk details are available here.