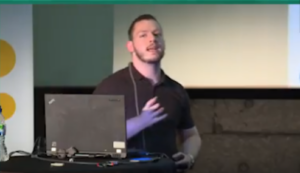 Hey everyone, a few weeks ago the ask was put out to the Tekton community by Christie Wilson for folks to join the outreach committee. Christie is one of the founding members of Tekton and currently sits on the Tekton Governing board.
After a few calls and really liking what I heard, and doing my own research from the website, I decided it was time to apply to become an ambassador.
I'm a full-time developer and I joined IBM almost seven years ago straight out of university. It was always my ambition to work for a company with an extensive reach so I can make the most impact to as many users as possible. In my spare time, you can find me producing music, mastering my guitar, or dreaming about getting back into the gym to beat some personal bests.
For my work, I've been involved on a range of projects before (more info on my LinkedIn) but it's a wide spectrum – from mobile app development, co-creating AdoptOpenJDK, GPUs from Java, Apache Spark, Node.js, Microclimate, and for the past two years, Tekton. I also had the opportunity to lead a machine-learning teaching group for primary school children, thanks to an idea coined by Dale Lane here at IBM Hursley. Think: make a Guess Who game using visual recognition software to build and train the model. Also think: using sentiment analysis to dispense "known tasty" or "could be disgusting" jelly beans, based on what a pupil says.
I've spoken at a wide range of high-profile and small events (I've added a few highlights to this article – a big shout-out to Geecon, Spark Summit Amsterdam, Nodeconf EU, J on the Beach, SkillsMatter and Devoxx for having me throughout the years – one day I'll find a great picture from a CDF event I am sure) but one of the key factors in pursuing this was the success of the CDF Summit at DevOps World/Jenkins World, San Francisco, 2019.
It was there that I delivered two Tekton presentations, met a core group of Tekton contributors, and also Tracy Miranda – currently the Chair of the Governing Board for the CDF as well as being Director of Open Source Community at Cloudbees. Given the fantastic support I've personally had, and the continued success and growth of Tekton, it makes sense to pursue something further in this area.
To that end, I'm delighted to have had my application accepted and I'm looking forward to all of the following!
1. Networking. I'm interested in making new connections and enhancing existing ones. Yes, a lot of people are going to mention this, but in particular I'm looking for collaboration opportunities, in particular with regards to creating content (be it podcasts, webinars, articles – anything that's useful for developers or devops folk).
2. Evangelism. There's plenty of excellent content that's been submitted already, and I'm confident what we have here is going to be a platform that we can continue to grow. I'm keen to share that material to help educate and inform others.
3. Supporting others – in particular, helping the community achieve their goals through CDF projects, especially with Tekton. While Slack and GitHub are incredibly useful, I believe it's important to have a more general platform that allows us to provide rich content to those that are interested. I see the CDF as being a particular example of a provider and community that can accomplish this.
I want to thank everyone in the community as well; be it the issue raisers with minor gripes, the prominent pull request contributors and reviewers, everyone involved in the design and test stages, and most of all the users of the CDF related products out in the field, working with end-users to make the whole delivery process a great deal better. Can't wait to hear from you and wish you all the best. I'm excited to get at it and make things happen!
If you'd like to get in touch, the best place is Slack (be it through the CDF's or any of the projects I'm actively working on) or LinkedIn.