Vol. 5 June 2020
Dear CDF Community,
The Continuous Delivery Foundation seeks to improve the world's capacity to deliver software with security and speed. That's why we curate this newsletter every month, to provide our community with high-quality articles featuring existing and emerging technologies.
This month's newsletter features articles about MLOps (Machine Learning + Operations). Discover what MLOps is and how the CDF is getting involved. If you're interested in joining the MLOps conversation, join the MLOps Special Interest Group (SIG). The next meeting is this Thursday, June 4, at 9:30 A.M. PST.
Happy reading,
Roxanne Joncas
Newsletter Editor
MLOps Articles
MLOps is the extension of the DevOps methodology to include Machine Learning and Data Science assets as first-class citizens within the DevOps ecology.
Read about the current state of MLOps, a five-year roadmap to support collaboration across the industry, and a view to improve the state of MLOps as a capability for all.
One key thing happening in the ML landscape is that more and more models are getting produced, but are they actually getting deployed?
Machine Learning development needs to embrace tried and tested Ops paradigms like declarative configurations to produce more value across use cases.
Events, webinars, and podcasts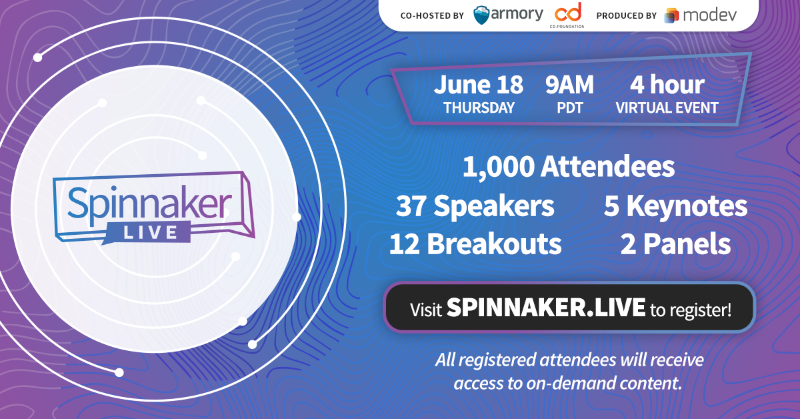 Find out why 2020 is the year of Spinnaker by attending Spinnaker.Live on June 18 at 9 A.M. PDT.

At this virtual conference, sponsored by the Continuous Delivery Foundation and Armory, we'll talk about how we work on SDLC automation, learn how to deliver with Spinnaker, and connect on extending Spinnaker and its ecosystem. Hear results and pain points from real enterprise use cases from Adobe, Autodesk, Cisco, Glovo, Netflix, Nike, Redbox, SAP, and Snap.

Register today to join speakers Kelsey Hightower, Bryan Liles, Clare Ligouri, Adrian Hornsby, Edith Harbaugh, Dave Farley, Andy Glover, and many more in celebrating our resilient community.
The Pipeline: All things CI/CD & DevOps Podcast
Listen to our latest episodes:
Every week our host Jacqueline Salinas, CD Foundation's Director of Ecosystems & Community Development, interviews industry experts, leaders, and innovators.
Virtual Events
Register to attend our upcoming webinars:
Have an idea for a webinar? Submit it
Watch the first webinar
CDF Community Ambassador
Give a big welcome to our new community ambassador, Tiffany Jachja!
She's an evangelist at Harness and one of her goals is to become a catalyst for better software delivery.
Read her blog post to get to know a little better.