Sponsor post | Contributed by Anushua Gorai, OpsMx as part of Spinnaker Summit 2022
When considering a fast, stable, and flexible CI/CD tool, a lot of companies often rely on Spinnaker. We know Spinnaker will play a key role in the future of CD in the enterprise.
How? Spinnaker is an open-source, multi-cloud continuous delivery platform that allows organizations to deploy changesinto production quickly, frequently, and safely. It has a buzzing community consisting of developers, DevOps engineers, SREs and collaborators who have adopted the tool to transform their continuous delivery.
But still, like every CD tool, adopting Spinnaker in the enterprise can be overwhelming due to its learning curve. The fact that it is feature rich and uses a declarative model also makes it difficult to adopt at an enterprise-level. However, once adopted, Spinnaker offers a world of benefits. For instance, it offers a single pane of glass to DevOps engineers through which they can see and control resources.
That is why this year OpsMx aims to focus on three main pain points of continuous software delivery.
How to make Spinnaker easier and safer to use?
Training and simplifying the management of Spinnaker for developers and enabling vulnerability fixes can help ease its adoption and shorten their learning curve.
How to enable developers to be more efficient?
As GitOps has become the next big thing in DevOps, developers can gain unprecedented controls and visibility with intelligent GitOps.
How to integrate Spinnaker with evolving DevOps and CI/CD tools?
As DevOps continue to adopt an increasing number of tools, it is critical to integrate Spinnaker with these new tools like Argo.
How Large-Scale Organizations Leverage OpsMx Intelligent Software Delivery (ISD) for Spinnaker?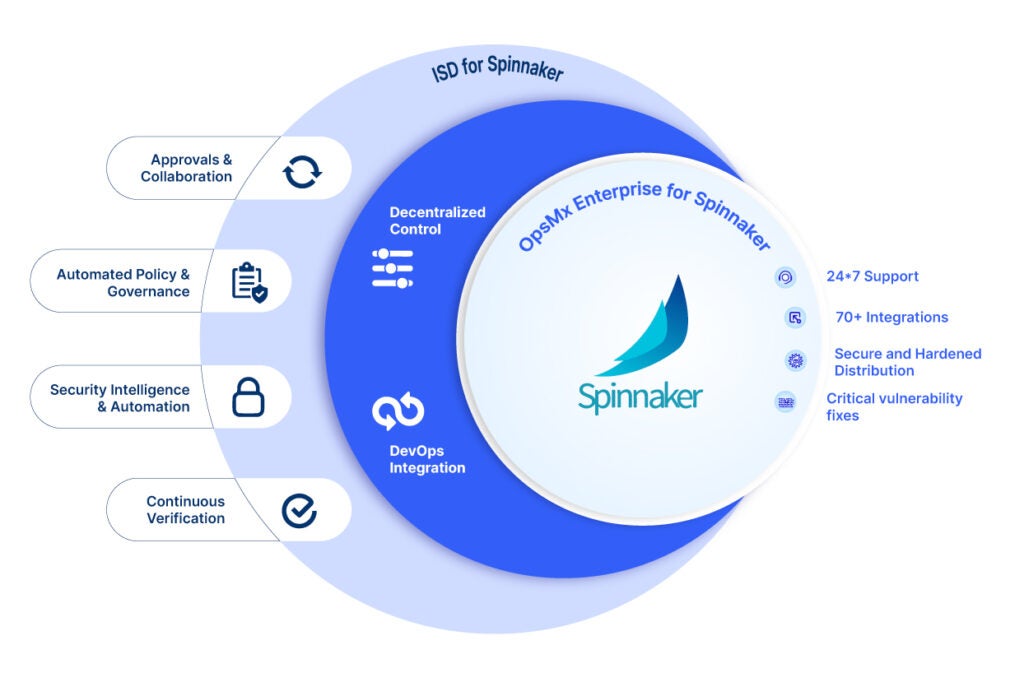 OpsMx Intelligent Software Delivery (ISD) for Spinnaker enabled Cisco to deliver applications to anything, anywhere, and anytime!
Cisco's use case with OpsMx ISD is remarkable among large-scale successful continuous delivery projects.
4000+ Spinnaker pipelines managed 1300+ microservices to deploy 68,000+ times yearly to SaaS (Salesforce, Oracle, Workday, ServiceNow, Snowflake) and the public cloud.
With OpsMx Enterprise for Spinnaker (OES), Cisco has attained break-neck speed and ensured secure and compliant SDLC.
Interswitch reduced deployment time by 70% with OpsMx Enterprise for Spinnaker (OES)
Interswitch and a large telecom company share their story on how Spinnaker has emerged as a leading tool for achieving scalable multi-cloud deployments. Spinnaker allows them to enable self-service, control (through policy integration), and deploy safely with automated verification.
California-based Application service provider rolls out production-grade applications with Spinnaker-as-a-service
A California-based application service provider leverages Spinnaker-as-a-service model to manage 250+ pipelines and 50 users.
Get Started With Your Automated CD Pipelines – Utilizing the Power of Spinnaker and Deep Integrations With Popular CI/CD Tools – With a User Experience Developers and DevOps Teams Will Love.
The OpsMx ISD platform offers instant visibility with correlated app visibility, which aids managers in making better decisions regarding app deployment. Additionally, they get access to rich insights and visibility into hidden data patterns, Metrics, API Data, and Transaction Traces.
Book your free trial today or you can book a time here and let our experts give you a quick demo on OpsMx.
Meet the OpsMx folks at Spinnaker Summit on October 24-25 in Detroit.