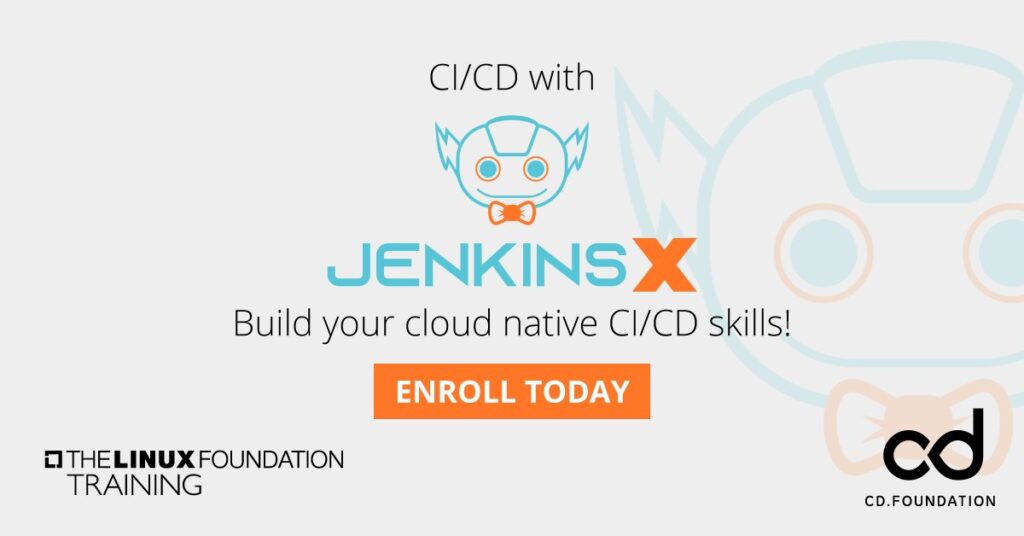 As more and more companies adopt cloud-based operating models including multi-cloud, hybrid-cloud and public cloud, the adoption of cloud-native applications also increases. This means more and more DevOps professionals with cloud-native CI/CD skills are required to deliver such applications. Jenkins X is one of the most promising cloud-native tools. It has its roots in Jenkins—a wildly popular CI server and a vibrant open-source community that's built on Kubernetes, Draft, Helm, and Tekton.
The Continuous Delivery Foundation and The Linux Foundation have partnered to offer a training course to help SREs, software developers, software architects and other DevOps professionals use Jenkins X to create an automated software delivery pipeline. The course will enable you to not only master CI/CD but also gain a deeper understanding of the cloud-native ecosystem.
LFS268 CI/CD with Jenkins X introduces the fundamentals of Jenkins X. Participants will learn how to use this tool to create an automated software delivery pipeline that includes building, testing in various environments and then promoting your application to production. The course is available to begin immediately. The $299 course fee provides unlimited access to the course for one year to all content and labs. Enroll here.
Discount: Register for CDCon (Oct 7-8) for only 25 USD and get 50% off this training!