ONE Summit Regional Day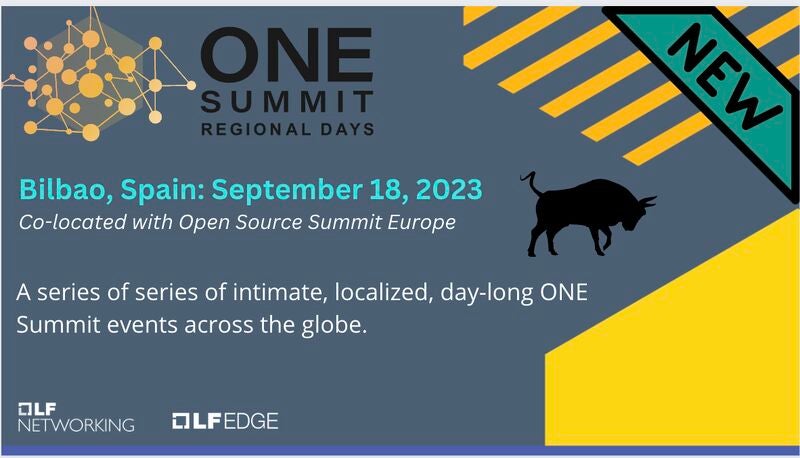 Join the larger open networking & edge ecosystems for ONE Summit Regional Day Spain: September 18, 2023 in Bilbao, Spain! The event will be co-located with Open Source Summit EU  and can be added to main Summit registration for just $20USD. Collaborate with technical decision makers, thought leaders, implementers, thinkers, and doers for a day of interactive discussion.
Get the same great content you'd expect during a full ONE Summit e — in-depth presentations and interactive conversations around Access, Edge, 5G and Cloud open-source technology developments– but in a smaller, more localized fashion hosted by local member companies.
Sessions & speakers  include:
Fatih Degirmenci  & Andrea Frittoli of CD Foundation: "Interoperability: Empowering Multi-Vendor CD in Telecommunications with Standardization"
Hanen Garcia of Red Hat on the 5G Super Blue Print
Markus Kuemmerle of Deutsche Telekom (& guests for a panel) on CAMARA & GSMA NaaS integration
Gergely Csatari of Nokia & Guillaume Nevicato of Orange on Project Sylva
Yanjun China Mobile for a "Deep dive into telco's Open Source Practices on Next Generation Infrastructure"
Phillip Griffiths of NetFoundry: "Applying Edge-Native Zero Trust to LF Edge; EdgeX Foundry, eKuiper, OpenZiti and the Open Retail Reference Architecture"
Community member from ZEDEDA: "Get Started with LF Edge with the New LF Edge Sandbox"
Stay tuned for additional details details, including the official agenda!
Location: Euskalduna Bilbao, Spain
In Person Registration Cost: $20
Virtual Registration Cost: $0
How to Register: Pre-registration is required. To register for ONE Summit Regional Day, add it to your Open Source Summit Europe registration.
Related Events