We're happy to announce that Tekton is up for CD Foundation project graduation!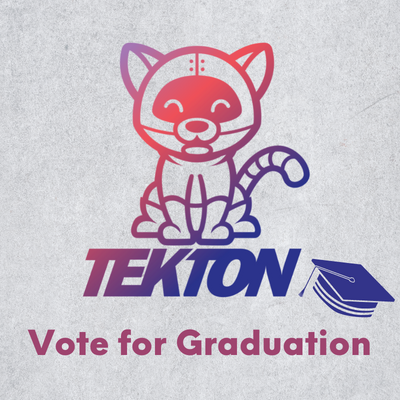 What Is a Graduated Project?
The Graduated Stage is for projects that have reached their growth goals and are now on a sustaining cycle of development, maintenance, and long-term support. Graduated Stage projects are used commonly in enterprise production environments and have large, well-established project communities.
Why Is Tekton Ready to Graduate?
Here's the proposal submitted by Andrea Frittoli (Tekton Maintainer)
"Tekton is a powerful and flexible open source framework for creating CI/CD systems, allowing developers to build, test, and deploy across cloud providers and on-premise systems. Get started with Tekton.
"Since 2018, Tekton has matured considerably, while remaining true to its nature of having a small footprint and giving users full flexibility in how they setup their CI/CD system through Tekton. This very flexibility has enabled Tekton to become the base for the implementation of more opinionated services on top, ranging from open source projects, cloud services as well as end-user platforms for DevOps services.
"The Tekton community benefits from a large and diverse community, with contributors from many different companies. The Tekton project is thriving within the Continuous Delivery Foundation, it has grown to fullfil all [required criteria] #157 and it would like to formally apply for graduation."
Thank you to the members of the Tekton Governing Board for leading Tekton so well.
Priya Wadhwa, Chainguard
Vincent Deemester, Red Hat
Jerop Kipruto, Google
Christie Wilson, Google
Andrea Frittoli, IBM
Dibyo Mukherjee, Google
Deadline to vote: October 17, 23:59 UTC
Note: TOC Members have binding voting rights but anyone can vote non-binding to show support.